India slipped to sixth place in the 42nd World Chess Olympiad after losing to fifth seed Ukraine 2.5 – 1.5 in the ninth round. Top three boards ended without decisive result while Sethuraman's defeat on fourth board against Anton Korobov decided the fate of the match in favour of Ukraine.
Playing with dark pieces Harikrishna drew with Pavel Eljanov while Adhiban and Vidit Gujrathi split the point against former world champion Ruslan Ponomariov and Yuriy Kryvoruchko respectively.
USA after defeating Norway in the ninth round giving company to Ukriane at leaders table with 16 points. Russia after defeating host Azerbaijan moved to third spot with 15 points. In the penultimate round, India paired against Russia while USA and Ukraine pitted against Georgia and Czech Republic respectively.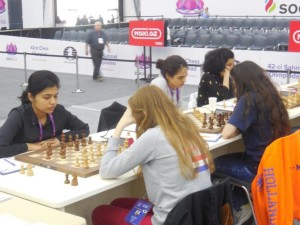 While in women section India moved to fifth position after defeating Netherlands in the ninth round. For India Harika Dronavalli, Tania Sachdev and Soumya Swaminathan registered victories over GM Zhaoqin Peng, Anna-Maja Mazarian and Maaike Keetman respectively while Padmini Rout suffered defeat by the hands of WGM Anne Haast.
China leading the point table in women section with 16 points and Poland closely following the leaders with a drift of one point. India has company of Russia and Ukraine with 14 points. In tomorrow's tenth round, India takes on Ukraine while China paired against Poland on top table.