Thoothukudi District Chess Association under the aegis of TNSCA organized Tamil Nadu State Veterans' Chess Championship which  was sponsored by SPIC Multi activity club  was held at the officers club, SPIC Nagar from 2nd to 4th June, 2017. The event attracted 39 players from all over Tamil Nadu. The top seed of the  tournament was Mr. V. Venugopalan from Tiruvallur with 1806 rating. The tournament was conducted as a seven round Swiss System for above 50 years and 5 rounds Swiss System for above 65 years of age. Mr.SR. Ramakrishnan, President of the Thoothukudi DCA inaugurated the tournament and was graced by Thoothukudi DCA Executive Committee Members and officials from SPIC.
In the above 65 years of age category with 12 participants at the end of 4th round, Ragland of Tirunelveli was the sole leader with 4 points. But at the end of the 5th round he lost with Mr. T.V. Subramanian of Trichy who played with 3 points.  3 players were tied with 4 points and Jacob Ragland clinched the title with a better tie break, whereas V.Venugopalan was placed 2nd followed by T.V.Subramanian
In above 50 yrs age category, Sundar Rajan M and Kalidass C both from Virudhnagar tied for 1st place and better tie break helped Mr. Sundar Rajan M to held the title.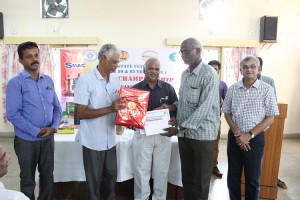 Special prizes were sponsored by Sathya Agencies for the top three winners