Swarnamala of Kendra Vidyalaya, Meenambakkam won the Title of Under 17 category in 1st Tamilnadu  State level chess tournament organized by Tagore Group of Institutions and Jerusalem College of Engineering at Tagore Medical College campus,Rathinamangalam.She won all games to gain the title.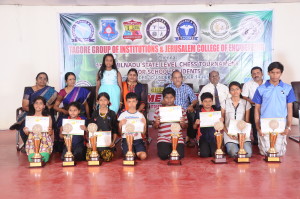 The Best Women enterprainer awardee, The Chairperson  Tagore Group of Institutions,  Mrs.M.Mala  announced a free Engineering Seat admission to Swarnamala.
The Chief guest Mr.V.Kameswaran  1st International Arbiter of India, gave away the prizes. Selvi.Rakshana gave away the prises for under 10 category. Mr.Rajani kanth, Physical Director  of Tagore Eng.College welcomed the guests and gathering
Mrs,S.Shantha,Dean of Tagore Medical College,Mr.Ramalingam, Principal of Jerusalem College of Engineering, Mrs.K.Shanthi,Principal of Tagore College of Arts & Science felicited the winners. Dr.Natarajan Physical Director of Tagore Medical College rendered vote of thanks.
Prize winners:
Under 10 girls: 1.Avanthika,2.Kirrthanapriya,3.Nithya shree
Under 12 girls:1.Akshaya,2.Neha,3.Sanjana
Under 14 girls:1.Reshma,2.Hiranmayi,3.Deepika
Under 16 Girls:1.Swarnamala,2.Niveta,3.Arunyaa
Under 10 boys:1.Sushilraaja,2.Sanjeevraj,3.ArjunVasudevan
Under 12 boys: 1.Vignesh,2.Srivathsamsekar,3.Jaiganesh
Under 14 boys:1.Adhavaprakash,2.Adhithya S Hariharan,3.Suriya
Under 17 boys:1.Raahul,2.Vadivel,3.Sundaraiah