Teenaged and Erode's only International Master Iniyan.P started as 19th seed and finished third and on course completed his maiden Grand Master norm at Montcada in Spain on 3rd July, 2017.
Trained by FIDE Trainer K Visweswaran of Chennai, Iniyan, born 2002, completed his nine game GM norm in the Barcelona Region of Spain.
Iniyan faced four GMs, and scored 2.5/4 beating top seed GM Evgeny Vorobiov of Russia. and the second seed GM Fernando Peralta of Argentina. He drew GM Shyam Sundar (Chennai) and lost to GM Burmakin (Rus). Iniyan gains 27.4 Elo for his 6.5/9. He played at a stunning 2615, his career best result. Iniyan is sponsored by "Olirum Erodu Foundation" , his school "The Indian Public School Erode".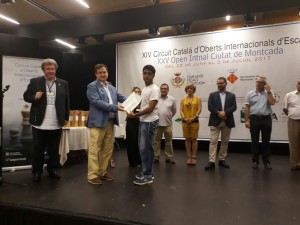 Grand Master M Shyam Sundar started as fourth seed and won the event remaining undefeated on 7/9. He shared the first place with Russian GM Vladimir Burmakin. The players drew their mutual encounter. Iniyan was third on tie-break with 6.5 points. Former Indian champion P Konguvel finished ninth, further below on six points.
The event attracted 109 players. Hosts, Spain with 42 players had more numbers than the large number of 30 Indians. However, Indians took two thirds of the podium in this 19-nation event. This event had 10 GMs, 15 IMs and 64 titled players.
Untitled B.C.P. Prasad, born 21, impressed with 6/9 and played at 2471 Elo, good for the IM norm. Prasad gained 30.80 Elo. Indian rating gainers: Anuj Shrivatri (+116.80), Vardan Nagpal (+101.60), Jijo Joy (+98.80), Avdhoot Lendhe (+98.40), Sapale Saloni (+83.20), M.L. Abhilash Reddy (+53.60).
Final placings: 1-2. GM M Shyam Sundar, GM Vladimir Burmakin (Rus) 7/9 each; 3-8. IM P Iniyan, IM Asis Gargatagli (Esp), GM Evgeny Vorobiov (Rus), IM Miguel Santos (Esp), GM Cristobal Henriquez (Chi) 6.5 each; 9-10. IM P Konguvel, FM Dmitriy Volkov (USA) and others 6 each.