Saranya J emerges TN State Women's Chess Champion 2020
Second seeded Woman FIDE Master Saranya J (8.0) emerged Champion with a superior tie-break score in the ONGC 48th Tamil Nadu State Women's Chess Championship 2020 held at Rasammal Thirumana Mandapam, Tiruvarur from 2nd to 6th January, 2020. Saranya J and Bala Kannamma P (both Chennai) shared the top spot with 8.0 points after nine rounds, with an identical show of two draws and seven wins each.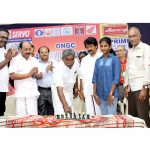 Earlier, the Champion & the Runner-up raced ahead of the rest, while their individual encounter ended in a draw. Saranya, winning her fifth TN state title, pocketed the champion's purse of Rs.20000 along with a handsome trophy. Saranya's first TN State title came in the year 2010 and by winning her fifth title in 2020, the Chennai girl has set a benchmark for consistency and durability.
It was a two-horse-race from the word go, as Saranya and Bala Kannamma went notching up one win after other. Briefly, Harivardhini (Thiruvallur) held the lead with 5.5 points after the sixth round, when Saranya held top seed Bala Kannamma to a draw. The duo won their next three rounds logging 8/9, a full point ahead of the rest.
Sharing the third spot with 7.0 points were Poorna Sri M K (Chennai), Harivardhini I, Kiruthika B (both Thiruvallur). The top four players qualify for the Women Nationals to be held later this year. The nine round Swiss event attracted 136 entries from 23 districts including 72 FIDE rated players.
Total Cash prizes for Rs. 75000 along with trophies were distributed by Chief Guests Shri J R Vijayraj, Group General Manager (HR), ONGC and Shri P N Maran, Chief General Manager (Prodn), ONGC. Shri R K Balagunasekharan, Joint Secy, Tamil Nadu State Chess Association proposed the vote of thanks.
Final placings : 1-2 Saranya J, Bala Kannamma P (both Chennai) 8.0, 3-5 Poorna Sri M K (Chennai), Harivardhini I, Kiruthika B (both Thiruvallur) 7.0, 6-12 Divyabharathi Masanam, Rindhiya V (both Chennai), Saranya Y (Thiruvallur),  Janani J (Chennai), Meenatchi Rajam V (Madurai), Yashavishree N (Chennai), Akshaya Rajaraman (Kanchi) 6.5 points.