Round -9 Solodovnichenko shares lead, IM Norm for Kumar Gaurav
Grandmasters Solodovnichenko Yuri (Ukraine) & Belous Vladimir (Russia) shared the lead with 7.5 points after the ninth and penultimate round of the 8th Chennai Open International Grandmaster Chess tournament 2016 for Sakthi Group Dr N Mahalingam trophy, held at Nehru Stadium, Chennai here today.
Four players closed in on the leaders at 7.0 points viz., Mozharov Mikhail (Russia), Dzhumaev Marat (Uzbekistan), Grachev Boris (Russia) and Vijayalakshmi Subbaraman (India) respectively.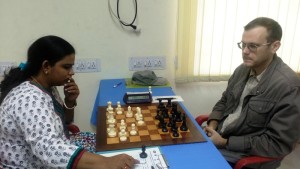 Earlier, 15-year-old Bihar lad Kumar Gaurav did himself and country proud, snatching the first Norm of the event. Holding International Master Ramnath Bhuvanesh to a draw, Kumar Gaurav made his maiden International Master Norm scoring 6.0 points from nine rounds.
Going into the final round, three players are holding Norm chances viz., Vijayalakshmi Subbaraman (GM Norm), Rathanvel V S and Erigaisi Arjun (both IM Norm). All three need to win their final round game to achieve the subject Norm. Vijayalakshmi faces GM Mozharov Mikhail of Russia and Rathanvel V S takes on GM Nguyen Duc Hoa of Vietnam, while Erigaisi Arjun squares off against fellow Indian International Master N R Visakh.
In a day of twin upsets, Vijayalakshmi scored over GM Demchenko Anton of Russia while International Master Ramanathan Balasubramaniam defeated GM Czebe Attila of Hungary. The exciting final round is scheduled for tomorrow, with cash prizes worth Rs.1100000 (Rupees Eleven Lakhs only) waiting to be won.
Round 9 results (Indians unless specified) Mozharov Mikhail (Rus) 7 drew with Solodovnichenko Yuri (Ukr) 7.5, Deepan Chakkravarthy J (6.5) lost to Belous Vladimir (Rus) 7.5, Grachev Boris (Rus) 7 bt Bernadskiy Vitaliy (Ukr) 6, Dzhumaev Marat (Uzb) 7 bt Popov Ivan (Rus) 6, Ernst Sipke (Ned) 6.5 drew with David Alberto (Ita) 6.5, Vijayalakshmi Subbaraman (7) bt Demchenko Anton (Rus) 6, Sivuk Vitaly (Ukr) 6.5 bt Rathanvel V S (6), Tukhaev Adam (Ukr) 6.5 bt Thakur Akash (5.5), Gabrielian Artur (Rus) 6.5 bt Srinath Rao S V (5.5), Neverov Valeriy (Ukr) 6.5 Muthaiah A L (5.5), Czebe Attila (Hun) 5.5 lost to Ramanathan Balasubramaniam (6.5)
சக்தி குழுமத்தின் பேராதரவுடன், தமிழ்நாடு சதுரங்க கழகம் நடத்தும், டாக்டர் மகாலிங்கம் கோப்பைக்கான 8 வது சென்னை கிராண்ட் மாஸ்டர் செஸ் போட்டிகள் சென்னை  நேரு ஸ்டேடியத்தில் நடைபெற்று வருகிறது.இந்தியா, உக்ரைன்,    ரஷியா, இத்தாலி, உஸ்பெகிஸ்தான், பிரான்ஸ், வியட்நாம்,பங்களாதேஷ் இன்னும் பல நாடுகளிலிருந்து 2௦ கிராண்ட் மாஸ்டர்களும் 22 சர்வதேச மாஸ்டர்களும் கலந்துகொண்டுள்ளனர். முதல் பரிசு ரூ.இரண்டு லட்சத்திற்கான இந்த போட்டியின்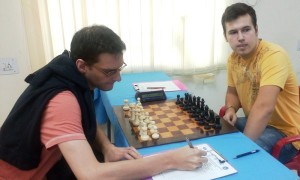 9  வது சுற்று இன்று நடைபெற்றது.
 இதில் இந்தியாவின் விஜயலக்ஷ்மியும் ரஷியாவின் ஆன்டனும் மோதிய ஆட்டம் பரபரப்பாக இருந்தது.
விஜயலக்ஷ்மி 27 வது நகர்த்தலில் ஒருகுதிரை மற்றும் யானைக்காக தனது ராணியைக் வெட்டுக் கொடுத்து ஆண்டனுக்கு அதிர்ச்சியைக்கொடுத்தார்.  அதிர்ச்சியிலிருந்து மீளாத ஆன்டன் தன்னிடம் முழுசாக ஒரு ராணி இருந்தும் விஜயலட்சிமியின் சிப்பாய் ராணியாக மாறுவதைத் தடுக்கமுடியாமல் தோல்வியை ஒப்புக்கொண்டார்.
9 வது சுற்றின் முடிவில்    உக்ரைனின்  யுரியும் ரஷ்யாவின் விலாடிமிரும் தலா 7.5 புள்ளிகளுடன் முதலிடம் பெற்றனர். நாளை இறுதிச்சுற்றில் யார் கோப்பையை வெல்வார்கள் என்பது எதிர்பார்ப்பில் உள்ளது.