"Athens of the East" 2nd International FIDE Rated below 1600 Chess Tournament held from 10-11-2017 to 12-11-2017 at Chellam Century Hall A/c, Madurai was organized by the Ananthi Chess Academy, affiliated to Madurai District Chess Association. Mr. Vijayarghavan, Joint Secretary, TNSCA, inaugurated the event in the presence of Pragadesh, Secretary, ACA.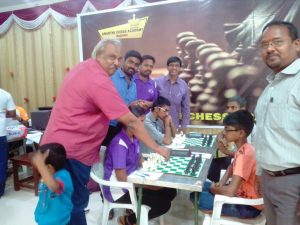 594 Players (436 rated players) from various States took part in this event. Top 3 Boards games where live broad casted. Prizes were distributed by Mr. Ephrame, Joint Secretary, TNSCA, in the Presence of  Mr. Vijayarghavan, Joint Secretary, TNSCA, Mr. Lokesh N and Rev. Dr. Arul Arasu Israel, President, MDCA.
In the final round Prem Anantha Rajan V from Madurai drew with Mr. Rahul Saro from West Bengal and became Champion of Athens of The East 2nd International FIDE Rated Below 1600 Chess Tournament.
Final Standings
| | | | |
| --- | --- | --- | --- |
| Rank | Name | Club | Pts |
| 1 | Prem Anantha Rajan V | TN | 8½ |
| 2 | KalkiEshwar D | KAR | 8 |
| 3 | RaghulSaro S | TN | 8 |
| 4 | BalaMurugan G | TN | 8 |
| 5 | IniyanSivakumar | TN | 7½ |
| 6 | Tamizhanban N | TN | 7½ |
| 7 | Gowrichander U | TN | 7½ |
| 8 | Kabil S | TN | 7½ |
| 9 | Yogeshwaran S A | TN | 7½ |
| 10 | MeenatchiRajam V | TN | 7½ |