L.R. Srihari of Kanchi District & V. Meenatchi Rajam of Madurai District are the champions of 29th TN State under 11 Boys & Girls respectively. The championship was organised by Namakkal District Chess Foundation & SPK Gems School, Tiruchengode. The event attracted 154 boys and 103 girls from all over Tamil Nadu. Tournament was inaugurated by S.Prabhu Chairman of SPK Gems School in the presence of Dr.V.S.Ramesh, (President, NDCF), V.Vijayaraghavan, (Joint Secretary of TN State & Secretary of Coimbatore District), S.Gnanasekaran, (Joint Secretary, NDCF).
Srihari (kanchi), Pranesh (Sivagangai) and Abinandan R (Chennai) shared their lead with full points at the end of 5th round. In girls section Meenatchi (Madurai) and Mohana (kanchi) shared the lead with full points at the end of 5th round. Srihari maintained his lead with full score up to 7th round. On the same round he drew with Rohit Krishna of Chennai and was the sole leader. In final round Srihari beat Manish Anto of his district mate with 8.5 points and clinched the title. Pranesh M of Sivagangai district finished 2nd with 7.5 points. The champions received Rs.3500 cash award with Dolphin Trophy each.
In girls section Meenatchi Rajam of Madurai was the sole leader from 6th round onwards. She had cent percent score till the penultimate round. In final round she drew with Anajana Devi of Kanchi and won the girls championship with 8.5 points. Mohana of kanchi beat Shrija K M of NLC and finished 2nd with 8 points.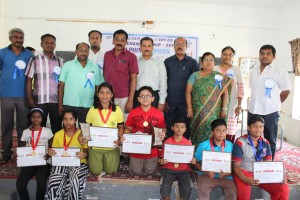 Shri P.Dhamodharan, Principal, SPK CBSE School and P.Gokulanathan, Chairman of Bharath Polytechnic College and Vice President of NDCF distributed the prizes to the winners.