The 28th National Youth Under- 25 Open Chess Championship 2019, under the aegis of All Jammu and Kashmir Chess Association (AJKCA) was organized by The Crown Trust (Sports) Regd at Delhi Public School, Jammu.
In this event, players from 22 states took part for the coveted title. The top seed was FM Navalgund Niranjan, rated 2261, of Karnataka followed by Rajesh Nayak of Odisha, rated 2250, and GM Gahan M G of Karnataka.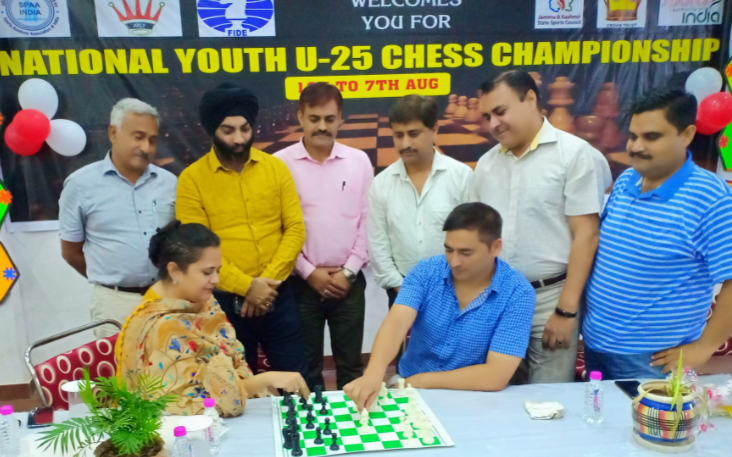 The championship was to be played from 1st to 7th August 2019 in the Swiss League format, comprising 9 rounds. However, due to Section 144 imposed by the Government of India, it was decided to declare the winner on the basis of performance after seven rounds.
Kumar S, rated 1960, of Tamil Nadu, bagged the winner's trophy. Mohit Kumar Soni of Bihar got first runner-up trophy while Saypuri Srithan of Telengana got third position. All the three players scored equal 6 points and the winner was declared on the basis of Buckloz tie-breaker rules.
A total of cash prizes of Rs1 lakh were distributed among the winners of top 25 positions.
Despite a lot of difficulties due to the imposition of Section 144, team AJKCA has done a wonderful job and made the arrangements for dropping all the players to the airport, railway stations, etc viz helping them in purchasing tickets.
Final Ranking after 7 Rounds (top five placing)
| | | | | | | | | | | | | | |
| --- | --- | --- | --- | --- | --- | --- | --- | --- | --- | --- | --- | --- | --- |
| Rk. | SNo | | Name | sex | FED | Rtg | Club/City | Pts. |  TB1 |  TB2 |  TB3 |  TB4 |  TB5 |
| 1 | 10 | | Kumar S. | | IND | 1960 | TN | 6,0 | 0,0 | 29,5 | 33,5 | 28,00 | 5 |
| 2 | 28 | | Mohit Kumar Soni | | IND | 1678 | BIH | 6,0 | 0,0 | 28,0 | 30,5 | 25,00 | 6 |
| 3 | 12 | | Saypuri Srithan | | IND | 1891 | TEL | 6,0 | 0,0 | 27,5 | 31,0 | 26,50 | 5 |
| 4 | 9 | | Bharadia Yash | | IND | 1963 | RAJ | 5,5 | 0,0 | 31,0 | 34,0 | 25,00 | 5 |
| 5 | 16 | | Aditya P Melani | | IND | 1847 | GUJ | 5,5 | 0,0 | 29,5 | 33,0 | 24,50 | 5 |