1st A.S. SUBBARAMAN MEMORIAL TROPHY INTERNATIONAL FIDE RATED OPEN BLITZ CHESS TOURNAMENT 2019
1stA.S.Subbaraman Memorial Trophy FIDE rated Open Blitz Chess tournament, jointly organized by Queens Chess Academy & IITM Chess Club at IIT, Madras on 15th August, 2019 with a big attraction for strong players.  8 Grandmasters, 1 International Master, 3 Women Grandmasters and 4 Women International Masters were in the fray. GM Aravindh Chithambaram Vr of Tamil Nadu was the top seeded player followed by seven strong Grandmasters were in the contest.  A total of 460 players from Tamil Nadu, Goa, Gujarat, Karnataka, Jharkand, AP, Pondicherry, Telangana, Kerala, Maharashtra, Bihar, Rajasthan, Delhi and Andaman &Nicobar were participated in the 11 round event.
The tournament was inaugurated by Shri. D.V. Sundar, Hon. Vice President, FIDE, Shri. Manuel Aaron, India's first IM & Arjuna Awardee, Shri. E.K. Dilip  Kumar, CO, DIPA Dairies & very eminent Astrologer, Mrs. Rani Subbaraman, Chairman, QCA; Shri. Sriram Jha, Hony. Vice President, QCA and IM S Vijayalakshmi, Hony. President, QCA.
There are no major upsets in the early rounds, except 13th seed Bhakti lost to 141st seed Maral Pranav in the 2nd round.  In 7th round, top seed of the tmt. GM Aravindh drew with WGM Vaishal,  GM R.B. Ramesh lost with GM Shyam Sundar M.  At the end of round 7, GM Vishnu Prasanna was the sole leader with 7 points. In the penultimate round, GM Aravindh Chithambaram beat GM Vishnu Prasanna, GM Karthikeyan Murali beat GM Sethuraman and FM Rathnavel beat GM Ramesh. There was a three way tie between Aravindh, Karthikeyan and Rathnavel at the end of tenth round with 9 points each. In the final round, GM Karthikeyan Murali beat GM Narayanan Srinath in the 2nd board scored 10 points  and clinch the title with the sole lead, while the top board players IM Rathnavel and GM Aravindh drew their game and scored 9.5 points. In the 3rd board, GM Vishnu Prasanna beat IM T.S. Ravi and also scored 9.5 points.  With a better buchholz points GM Aravindh placed second and GM Vishnu Prasanna came third place. In the Open Section, GM Karthikeyan Murali got the 1st place, receives cash award of Rs.35,000/- and Trophy, followed by GM Aravindh Chithambaram & GM Vishnu Prasanna won the 2nd & 3rd place and receives cash awards of Rs.25,000/- and Rs.17,000/- plus trophy respectively. In the Women section, Saranya Y won the Rani Subbaraman Trophy along with Rs.5,000/-, while WGM R. Vaishali & WIM N. Raghavi won the 2nd and 3rd place with Rs.3,000/- & Rs.2,000/- respectively.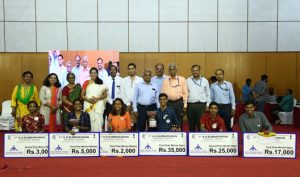 Chief Guest of the function was Shri S. Sreekumar, Airport Director, Chennai Airport, AAI, Shri. Narayanan, Purple Stream, Mrs. Rani Subbaraman, Chairman, QCA, Shri R. Ravikumar, International Arbiter, Chief Arbiter, Shri. Sriram Jha, Hony. Vice President, QCA and IM S.Vijayalakshmi, Hony. President, QCA gave away the prizes to the winners.