The dream run of Indian Men team came to a halt as they suffered defeat by the hands of star studded USA in the seventh round of the ongoing 42nd Chess Olympiad at Baku, Azerbaijan.
With super Grandmasters Caruana, Nakamura and So in the lineup, USA was the favourite against young India. But India managed to start well as Sethu was cruising for victory against Samuel Shankland on fourth board and Hari had a promising position against Caruana. But Sethu blundered and throw away the advantage which entirely changed the complexion of this high voltage match. Nakamura and So made grip on the match at middle game to beat Adhiban and Vidit Gujarathi respectively while Hari settled for half point against world No. 3. Sethu tried hard to salvage pride but surrendered in 75 moves which gave 3.5 – 0.5 score line in favour of USA.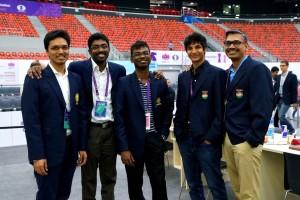 USA are now leading the point table with 13 points while with 12 points in the kitty, six teams including India are now at joint second spot. In the eighth round, USA will takes on top seed Russia while India paired against England.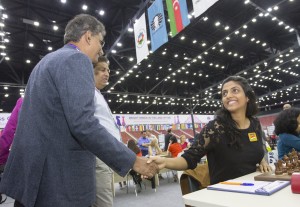 Meanwhile the Women team also suffered their first defeat in the Olympiad against Azerbaijan. On top board, Harika drew her game against WGM Zeinab Mamedjarova while Padmini and Tania tasted defeat against Gunay Mammadzada and Gulnar Mammadova respectively. This is the third consecutive loss for Tania after a promising 4/4 start. Soumya Swaminathan added one point to the Indian score beating Aydan Hojjatova on fourth board.
Indian women are now at joint eleventh position and paired against Uzbekistan in the eighth round