Deepan, Laxman, Tukhaev & Rozum share lead in Chennai Open

Chennai based Grandmaster Deepan Chakkravarthy & R R Laxman (6)  both of ICF shared the lead with GMs Tukaev Adam (Ukraine) and Ivan Rozum (Russia) after the seventh round of the 10th Chennai Open International Grandmaster Chess tournament 2018 for Sakthi Group Dr N Mahalingam Trophy at The Vijay Park Hotel, Chennai here today. Grandmaster Tukhaev (Ukraine) is the defending champion in the Chennai Open and appears to be peaking in the right time.
Half a point behind the leaders were GMs Atalik Suat (Tur), Tiviakov Sergei (Ned), Sivuk Vitaly (Ukr), Dzhumaev Marat (Uzb) along with S Nitin, P Karthikeyan, Karthik Venkataraman, Erigaisi Arjun, Pranav V, Sidhant Mohapatra, Muthaiah AL, Visakh N R (all India).
Earlier, top seed GM Gareyev Timur (USA) brought down a two-round slump to a halt, scoring over local boy Rajarishi Karthi. The win propels Gareyev to 5.0 points with three games on hand.
Woman FIDE Master and World Under 12 Champion Divya Deshmukh, who scalped her maiden GM win, went down in a hard fought battle to Khusenkhojaev Muhammad of Tajikstan today. Good display in the remaining three rounds, will still give the Maharashtra girl a shot for WIM Norm.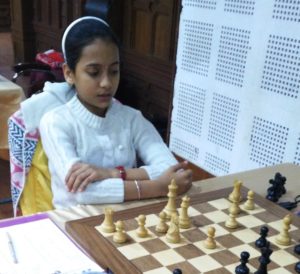 Important Results (Round 7) (Indians unless specified) :  Deepan Chakkravarthy J (6) drew with Tukhaev Adam (UKR) 6, Rozum Ivan (RUS) 6 bt Karthik Venkataraman (5.5), Tiviakov Sergei (NED) 5.5 drew with Erigaisi Arjun (5.5), Atalik Suat (TUR) 5.5 drew with Pranav V (5.5), Sidhant Mohapatra (5.5) drew with Pruijssers Roeland (NED) 5.5, Muthaiah Al (5.5) drew with Visakh N R (5.5), Laxman R.R (6) bt Hegde Ravi Gopal (5), Roy Chowdhury Saptarshi (5) drew with Solodovnichenko Yuri (UKR) 5, Sivuk Vitaly (UKR) 5.5 bt Praveen Kumar C (4.5), Karthikeyan P (5.5) bt Maheswaran P (4.5), Dzhumaev Marat (UZB) 5.5 bt Ajay Karthikeyan (4.5), Nitin S (5.5) bt  Ram S. Krishnan (4.5), Rajarishi Karthi (4.5) lost to Gareyev Timur (USA) 5.0
Important Results (Round 6) (Indians unless specified) :Karthik Venkataraman (5.5) drew with Deepan Chakkravarthy J (5.5), Visakh N R (5) drew with Tiviakov Sergei (NED) 5, Tukhaev Adam (UKR) 5.5 bt Rathnakaran K (4.5) Pruijssers Roeland (NED) 5 drew with Laxman R.R (5), Hegde Ravi Gopal (5) drew with Sivuk Vitaly (UKR) 4.5, Gareyev Timur (USA) 4 lost to Sidhant Mohapatra (5), Hafiz Arif Abdul (INA) 4 lost to Rozum Ivan (RUS) 5, Tran Tuan Minh (VIE) 4 lost to Muthaiah AL (5), Gajwa Ankit (4) lost to Atalik Suat (TUR) 5, Pranav V (5) bt Horvath Adam (HUN) 4, Maheswaran P (4.5) drew with Nitin S (4.5), Tiwari Arjun (4.5) drew with Llaneza Vega Marcos (SPA) 4.5