The first Sunday of March 2017, saw the beeline of top Arbiters in the state assembling at the heart of Chettinad. The picturesque Chettinad Public School in Karaikudi turned out to be the venue of the Arbiters' refresher course organised by Sivaganga District Chess Association under the auspices of Tamil Nadu State Chess Association.
This initiative of TNSCA is to bring in more qualified and quality Arbiters to the forefront, as well keep up the high standards of organisation, supervision and execution of the FIDE Laws of Chess. The event saw the participation of 14 International Arbiters and 24 FIDE Arbiters from all over Tamil Nadu. The one-day workshop was facilitated by India's most experienced International Arbiter R Anantharam, As a new step, seven International Arbiters viz., Mr. M Ephrame, Mr.S Paul Arockia Raj, Mr.B Sakthi Prabhakar, Mr. B T Sethuraman, Mr.S Ganesh Babu, Mr.P Palaniappan and Mr.B Balakrishna came up with presentations on key topics and were ably supported by Mr. Anantharam.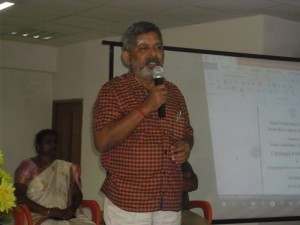 The event was inaugurated by the Chairman of Chettinad Public School, Karaikudi Mr. S P Kumaresan, in the presence of Mr. V Hariharan, General Secretary, Tamil Nadu State Chess Association, Mr. M Kannan, Secretary, Sivagangai District Chess Association and Mr. G R Ramesh, Principal, Chettinad Public School.
Special mention should be made about the excellent hospitality of Chettinad Public School, Karaikudi who made the event a grand success.