Round 9 Standing
IM Ravi Teja maintains his lead
 International Master Ravi Teja of RSPB is maintaining lead with 7½ points after the 9th round of the 54th National Challengers Chess Championship 2016 at Amity University Noida.
Following the leader half a point behind at seven points were GrandMaster  Sunilduth  Lyna Narayanan of Kerala, and GrandMaster Sriram Jah of LIC.
International Master Ravi Tejas RSPB did not take risk against fellow player International Master S Nitin  in a Caro Kann game. Early Queen exchange resulted draw in 21 moves.
On the second board International Master Ramnath Bhuvanesh of Tamil Nadu employed Sicilian Mascow variation with GrandMaster S L Narayanan. Narayanan won a Pawn on  move 21,  with a tactical combination. Using the material advantage in the Rook and Pawn endgame Narayanan won the game on move 65.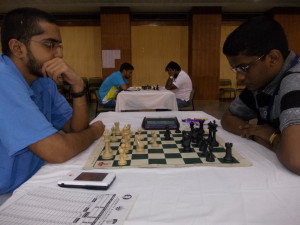 In another interesting game between Dhulipalla Bala Chandra Prasad and Bakre Tejas  witnessed Queen Pawn opening. Bakre opened  the 'h' file and initiated the attack  but Bala Chandra counter attacked on the centre, piece sacrifices came from both players, finally the game ended in a draw on move 52.
One more interesting game between Sai Vishwesh of Tamil Nadu and GrandMaster Sriram Jah of LIC. In a Ruy Lopez Breyer game, Sai went attack on the king side but Sriram opened the 'c'  file which allowed his Rook on the seventh rank. Sai did not persist the attack of Sriram and resigned on move 40.
Round 9 – Results
Nitin(6½) drew with Ravi Teja(7½), Ramnath Bhuvanesh(6) lost to Sunilduth Lyna Narayanan(7),Dhulipalla Bala Chandra Prasad(6½)  drew with Bakre Tejas(6½), Sai Vishwesh (6) lost to Sriram Jah(7), Gomes Mary Ann(6½) drew with Laxman(6½), Sidhant Mohapatra(6½) drew with Abhishek Kelkar(6½), Rajesh(6½) drew with Kulkarni Vikramaditya(6½), Kunte Abhijit(6½) bt Tiwari Arjun(5½).