Round 8 Standings
IM Ravi Teja in sole lead
International Master Ravi Teja of RSPB is in lead with 7 points after the 8th round of the 54th National Challengers Chess Championship 2016 at Amity University Noida.
Following the leader one point behind at six points were fourteen players viz., GMs  Sunilduth Lyna Narayanan of Kerala, Bakre Tejas of Indian Airlines, R R Laxman of RSPB, Sriram Jah of LIC, IMs S Nitin of RSPB, R Ramnath Bhuvanesh of Tamil Nadu, Abhishek Kelkar of RSPB, Rajesh VAV of Airports Authority of India, Kulkarni Vikramaditya of RSPB, WGM Gomes Mary Ann of PSPB and Dhulipalla Bala Chandra Prasad of Andhra Pradesh, Sai Vishwesh of Tamil Nadu, Sidhant Mohapatra of Odisha, Tiwari Arjun of RSPB respectively.
International Master Ravi Tejas of RSPB opened with Queen Pawn. The 16 years old boy Sai  Vishwesh of Tamil Nadu tried to trade the advanced Knight of Ravi on move 17, cost him the centre Pawn. Sai tried to complicate the position by sacrificing his Rook for the Knight but it did not help him, Sai lost another piece and resigned on move 24.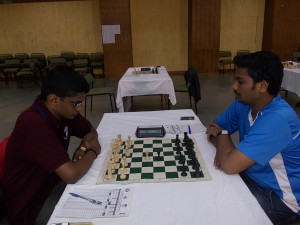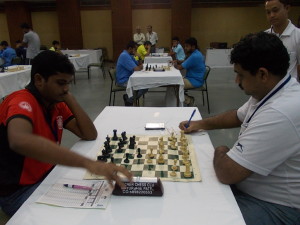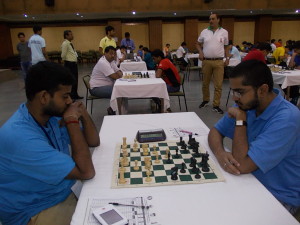 Round 8 – Results
Ravi Teja(7) bt  Sai Vishwesh (6), Sunilduth Lyna Narayanan(6) drew with Rajesh(6), Bakre Tejas(6) drew with Gomes Mary Ann(6), Laxman(6) drew with Sidhant Mohapatra(6), Vishnu Prasanna(6) lost to Ramnath Bhuvanesh(6), Harsha Bharathakoti(5½) drew with Kunte Abhijit(5½)