The 3rd Hatsun Idhayam FIDE Rated Chess Tournament, organised by Virudhunagar Chess Club at VSVN Polytechnic, Virudhunagar attracted about 270 players from Tamil Nadu, AP, Telanagana, Karnataka, Kerala, Pondicherry, Maharashtra and Jharkhand. International master P. Shyaamnikhil, international master elects Ara Harikrishnan and M. Kunal all from Tamil Nadu were the top three seeds, followed by Asian Under 9 champion D. Gukesh of AP. The tournament was of 9 round Swiss format, with a time control of 90 minutes to each player, with an increment of 30 seconds per move.
In the inaugural round, former TN State women champion S. Harini was held to a draw by K. Yogaraj of TN. A similar result was on cards for the state women champion P. Bala Kannamma, when she met low rated Arjun Sidharth in the second round. Fourth round witnessed the Madurai talents B Selvamurugan, and TS Nandakumar extricating half a point each from the top two seeds Shyaam and Hari respectively. Kunal emerged the sole leader at the end of the fifth round by beating former under 17 TN champion SS Manigandan of Madurai, as other top board games ended without any decisive result.
Tough fighting prevailed in the sixth round, as there were only two draws in the first fifteen games, leading to a six way share of the lead. Harikrishnan defeated Yogit of Chennai and Kunal got the better of Dusthageer of Madurai to seize the lead with 6.5 points each, with Shyaamnikhil, Gukesh, S Kumar and Manu David Suthanthiram of Chennai half a point behind the leaders. After a spate of draws on top boards, Harikrishnan and Kunal continued to lead with 7 points each at the end of the eighth and penultimate round. The tournament was poised for an exciting finish, as nine others were breathing at the shoulders of the leaders with 6.5 points each.
Kunal and Gukesh settled for an early draw. Shyaamnikhil used his vast resources to break open the sturdy defence of Harikrishnan to script a win. Manu David Suthanthiram, S Kumar and P. Mythireyan also recorded wins to scored 7.5 points to tie with Kunbal and Shyaam. When the tiebreaks were applied, Kunal was decalred winner followed by Shyaamnikhil and others in the above order. Kunal received Rs.50,000/- and Shyaam got Rs.30000/-. A total cash prize of 4.5 lakhs was awarded in the form of about 230 prizes.
Sri. TKSPA Shanmugamoorthy, Secretary of VSVN Polytechnic inaugurated the tournament in the presence of Sri. VMG. Rajasekaran industrialist and Vice President of VDCA.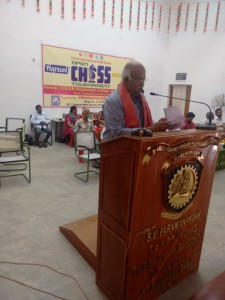 Sri. VVR Idhayam Muthu, one of the sponsors of the tournament was the chief guest in the prize distribution function and Sri. S. Eswaran BE., of SPK Hotel, Madurai was the guest of honour.