31st TN State U-7 Open and Girls Chess Championship 2018 was organised by the Chennai District Chess Association from 06-05-2018 to 09-05-2018 at AVM Mat. Hr. Sec. School, Chennai.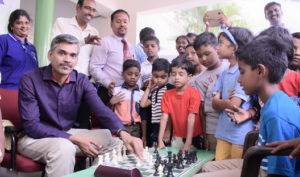 Grand Master R.B. Ramesh inaugurated the event in the presence of Mr. Muthukumar, Joint Secretary, TNSCA, Mr. Murugavel, Vice President, TNSCA, Mr. Sakthi Prabhakar, Joint Secretary, Chennai DCA Mr. Ganesan, Secretary, CDCA.
126 Boys players and 89 Girls players from 26 districts from Tamil Nadu took part in this event. In the final round in U-7 Boys section Adharsh K from Chennai defeated AditKiruba Raj M from Madurai and became TN State U-7(Open) Champion. In U-7 Girls section Lakshana Subramanian from Sivagangai defeated Shwetha VS from Kanchipuram and became TN State U-7(Girls) Champion.
Prizes were distributed by Mr. Mohan Raja,Film Director in the Presence of Mr.D.V. Sundar, Vice President, FIDE,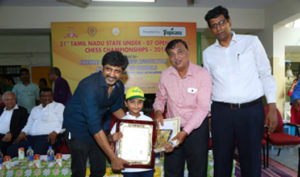 Mr. Stephen Balasamy, General Secretary, TNSCA, Mr. AVM. K.Shanmugam, General Secretary, AVM Rajeswary Educational Trust, Balasubramanian V, VP, Corporate Communication, The Indian Cements Ltd., Mr. Ravishankar, Tresurer, Lions Club of Nungambakkam, Mr. Murugavel, Vice President, TNSCA and Balachandra Datta, VP corporate Affairs, Hyundai Motors.
Final Standings – Open Section

Rank
Name
Club
Pts
1
Adharsh K
Chennai
8
2
Mithra Kumaran J K
Coimbatore
8
3
Meiyappan M
Coimbatore
7½
4
Pranav U C
Tiruvallur
7½
5
Hari Prasath D
Thoothukudi
7
6
Samhith M
Chennai
7
7
Santanu Kumar Dash
Kanchipuram
7
8
AditKiruba Raj M
Madurai
7
9
Rithish S
Erode
6½
10
Sri Harinandan G
Coimbatore
6½
11
Prakul A
Chennai
6½
12
Sanjay S
Coimbatore
6½
13
ViditSaboo
Chennai
6½
14
Shishir B
Chennai
6½
15
MahimithranArasu
Thanjavur
6½
16
Premshankar B U
Chennai
6
17
SrinikeshKrishnakumar
Kanchipuram
6
18
Sharvesh S
Salem
6
19
Sameshkrishnan N D
Villupuram
6
20
DharsanRatnakar P
Trichy
6
21
Vijaya Krishnan R
Chennai
6
22
SukirthanArun
Chennai
6
23
Nitin Kumar P
Tirunelveli
6
24
Prithivkanna M P
Salem
6
25
Jeytharshan R A
Tiruvallur
6
Final Standings – Girls section

Rank
Name
Club
Pts
1
Lakshana Subramanian
Sivagangai
8
2
Luxshana B K
Coimbatore
8
3
Anjana A
Chennai
7
4
Sayshitha A.K
Tiruvallur
7
5
Shweta V S
Kanchipuram
7
6
Asmitha Sa
Salem
7
7
Sai Aradhana  R
Erode
7
8
Sreeharini S
Tiruvallur
6½
9
Harini L A
Villupuram
6½
10
Deekshaa S
Namakkal
6
11
Mahadi H
Chennai
6
12
Deepshikha R
Karur
6
13
Srinithi S
Salem
6
14
Laksshana Deepak
Chennai
6
15
Ananya A P
Chennai
6
16
Raveena G
Kanchipuram
6
17
Pavithra N
Kanyakumari
6
18
Danupriya I
Vellore
6
19
Charudharshini R
Kanchipuram
6
20
Kapa Rithika
Chennai
6
21
Lakshana S
Madurai
5½
22
Swastika G
Chennai
5½
23
Vallabhi G
Chennai
5½
24
Sadhana S N
Erode
5½
25
Sannah M
Chennai
5