30th Tamil Nadu State U-13 Open & Girls Chess Championship 2017 was organized by the Namakkal District Chess Foundation from 03-05-2017 to 07-05-2017 at VidyaVikas, Tiruchengode, Namakkal.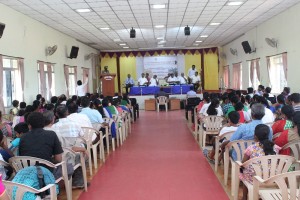 Mr. Raju, DSP, Tiruchengode, inaugurated the 30th TN State U-13 Chess Championship 2017 in the presence of Mr. Gunasekaran, Correspondent, VidyaaVikas Institution, Mr. Singalavelan, Mr. Muthusamy, Mr. Ramalingam and Mr. Vetriselvan, the founder members of VidyaaVikas Institutions, Mr. Vijayaraghavan, Jt.Secretary, TNSCA, Dr. V.S. Ramesh, President, NDCF and Mr. G.Gnanasekaran, Secretary, NDCF.
237 Boys (164 rated players) and 135 Girls (66 rated) players from almost all districts from TN State took part in this event.
Prizes were distributed by Dr. Samydurai, Principal of Vidyaa Vikas college of Engg. & Tech, in the Presence of  Dr. Ramesh, President, NDCF, Mrs. Aarthy Ramesh, Women Grand Master, Mr. Gnanasekaran, Secretary, NDCF.
In the final round in U-13 Boys section Balasubramaniam H from Chennai defeated Dhinesh Rajan M from Sivagangai and became TN State U-13 (Open) Champion. In U-13 Girls section Jyotsana L from NLC defeated Harshini B from Chennai and became TN State U-13 (Girls) Champion
Prize winners- Open
| | | | |
| --- | --- | --- | --- |
| Rank | Name | Dist. | Pts |
| 1 | Balasubramaniam H | CHE | 8 |
| 2 | Rohith Krishna S | CHE | 7½ |
| 3 | Pranesh M | SVG | 7½ |
| 4 | Srihari L R | KAN | 7½ |
| 5 | Rathneesh R | KAN | 7½ |
| 6 | Vignesh N | KAN | 7 |
| 7 | Hiren K G | CHE | 7 |
| 8 | Satvik V | CHE | 7 |
| 9 | Harshavardhan V Ravindhra | CHE | 7 |
| 10 | Dinesh Rajan M | SVG | 6½ |
Prize winners- Girls
| | | | |
| --- | --- | --- | --- |
| Rank | Name | Dist. | Pts |
| 1 | Jyothsna L | NLC | 8½ |
| 2 | Rindhiya V | CHE | 7½ |
| 3 | Mohana R | KAN | 7 |
| 4 | Tarunika P | CBE | 7 |
| 5 | Vijayasubhasri S | SVG | 7 |
| 6 | Poorna Sri M.K | CHE | 7 |
| 7 | Shrija K M | NLC | 6½ |
| 8 | Harshini B | CHE | 6½ |
| 9 | MeenatchiRajam V | MDU | 6½ |
| 10 | DivyabharathiMasanam | CHE | 6½ |