Mr.N.Surendran of Chennai, Tamil Nadu became the champion of 1st Salem International Fide Rated Chess tournament with 7.5/8 points on better tie-break. Mr. N.Surendran of Tamilnadu, Ram S Krishnan of BSNL 2nd Prize, Rao J Malleswara of Andhrapradesh, 3rd Prize were tied for the 1st Prize with 7.5/8 points but on better tie-break Surendran became the Champion of this Tournament, which was held from 26th to 29th January 2017 at Mahendra Engineering College, Salem.
The event was inaugurated by Mrs. Savithri Kumararajah, Salem Metro Acme Ladies Circle 91 & Mrs. Nagappan, Salem Metro Acme Round Table 175, in the presence of Mr. N.Arun, Secretary, Salem District Chess Association & Mr. Ponniyin Selvan, Administrative Officer, Mahendra Engineering College.
This event was organized by Salem District Chess Association & Students Chess Foundation. Totally 715 Players (380 rated players, 335 unrated players) from 12 States participated in this event. Mr. AL. Muthaiah of Tamilnadu was the Top seed of this event. The Youngest is a Five Year boy and the Oldest is Seventy years old.  WGM Arthi Ramasamy visited this event and inaugurated the 2nd round, IM Nitin visited this even and inaugurated the final round in the presence of Mr. M.Senthilvel, SDCA President & Jt. Secretary TNSCA.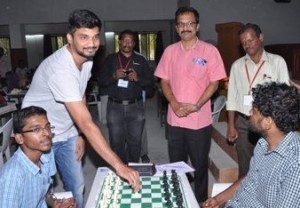 On 29th January 2017, the Prize Distribution function was held and the Chief Guests was Mr. Sujith Kumar IPS, Additional Superintendent of Police, Salem; Mr. Geo George IPS, Deputy Commissioner of Police Law & Order, Salem city; Mr. Maha Ajay Prasad, MD Mahendra Educational Institutions; Mr. Raja Director Thangam Mount litera Zee School; Mr. N. Nagappan, SalemMetro Acme Round Table 175; Mrs. Savithri Kumararajah, Salem Metro Acme Ladies Circle 91;Mr. R.Asokan, Principal, Mahendra College of Engineering. All the above Guests distributed 207 Prizes in total, in the presence of Mr. N.Arun, Secretary, Salem District Chess Association & Mr. P.Palaniappan IA, Chief Arbiter of this Event. The total Prize Money of the Event is Rs. 2,00,000/-